Home
→ Food supplement Essential Vitamins. Diosmin & Rutin, 60 tablets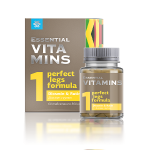 Buy
Food supplement Essential Vitamins. Diosmin & Rutin, 60 tablets
# 500626 60 tablets
Diosmin:
contributes to the proper functioning of the vascular system of lower limbs;
facilitates blood circulation and promotes healthy blood vessels;
helps relieve the feeling of heaviness in the legs.
Rutin helps reduce the fragility of capillaries and increase blood vessels elasticity.
Recommended use
Recommended dosage: adults take 1 tablet a day with a meal. Intake duration – 1 month.
Warnings:
– Individual intolerance to the food supplement ingredients.
– Medical advice is recommended before intake.
– Keep out of reach of children!
– Do not exceed the recommended daily intake.
– The product does not replace a diversified diet.
– Not intended for children!
– Not intended for pregnant and lactating women.
– Free from gluten and lactose.
Storage conditions:
Store in a dry place, away from light, at a temperature of no more than 25 °C.
Ingredients
In 1 tablet:
Ingredients of 1 tablet (560 mg):
Diosmin1
416,7 mg
where diosmin
402 mg
Rutin
100 mg
where rutin
98 mg
Wintergreen sprouts (Chimaphila umbellata)
32 mg
Microcrystalline cellulose (Е460) – filler
5,6 mg
Calcium stearate (E470a) – anticaking agent
2,9 mg
Tablets coating Nutraficient
2,8 mg
where polyvinyl alcohol (E1203)
1,12 mg
where polyethylene glycol (E1521)
0,566 mg
where titanium dioxide (E171) – coloring agent
0,498 mg
where talc (E553b) – anticaking agent
0,414 mg
where iron oxide yellow (Е172) – coloring agent
0,168 mg
where iron oxide black (Е172) – coloring agent
0,034 mg
1 – China.